Latest News and Events
The SAMSI-FODAVA Workshop on Interactive Visualization and Analysis of Massive Data will be held on December 10-12, 2012.
The FODAVA Annual Meeting will immediately follow (Dec 12-13) the SAMSI/FODAVA joint workshop at the same location.
Posted:

September 05, 2012
Many of the modern data sets such as text and image data can be represented in high-dimensional vector spaces and have benefited from computational methods that utilize advanced techniques from num
VAC Consortium Meeting: Broadening our Horizons
The VAC Consortium meeting will be held on August 31 and September 1 at the University of Maryland in College Park, MD. We look forward to seeing you there as we expand the horizons for visual analytics.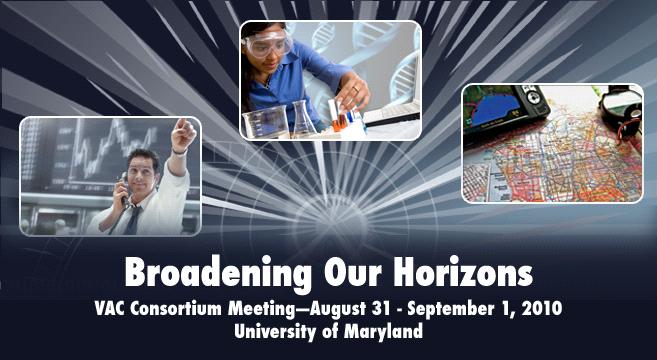 Visual analytics is a rapidly growing field with broad applicability to industry, science, commerce, and society.  The VAC Consortium is an active international community of researchers, educators, technology providers and practitioners striving toward a common goal: to help people make sense of complex information effectively with the support of innovative visual analytics software.
Come and take part!  Join us for the VAC Consortium 2010 meeting to explore the newest horizons for visual analytics. You'll have the chance to talk with leaders in government, industry, and academia, get hands-on with the current state of the art in visual analytics, and learn about new missions and opportunities for the visual analytics community.
Keep abreast of the lasted information on the consortium:  http://nvac.pnl.gov/meeting_2010/
Have questions? Want to get involved? Contact us
VAC Consortium Meeting
Broadening our Horizons
August 31-September 1, 2010
University of Maryland, College Park, MD